Quick Links
Online Catalog
From Aida To Zweigart--Yarn Tree is the source for cross stitch. 1,000's of products and patterns from your favorite designers.
Search
Search Online Catalog.
Where To Buy
Support your local needlework store! If your favorite store is not on the list, ask if they will special order for you.
Contact Us
Your best source for needlework for over 35 years.
Quarter Stitches, Half Stitches
Mini Cross Stitch Lesson
Fractional stitches (1/4, 1/2, and 3/4 stitches) are easy to do, but can be a little confusing when you see them for the first time on a pattern or chart.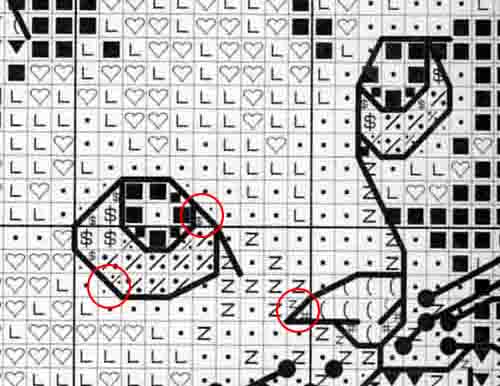 Quarter, half, and three quarter stitches are used to give extra detail to a design.
This design (from Jeanette Crews Designs "Cattitudes. The Thirteenth Litter" (Yarn Tree item K7022)) uses quarter stitches to add more detail to the eyes and nose.
Fractional stitches are shown on the graph by a small symbol filling just a corner of the box. The stitches in the red circles are fractional stitches.

Here is what fractional stitches look like stitched.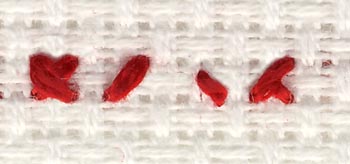 Stitched On Aida.
Left to Right: a full cross stitch, a half stitch, a quarter stitch, and a 3/4 stitch. Notice that to do the 1/4 stitch on aida you need to poke the needle through the fabric between the holes.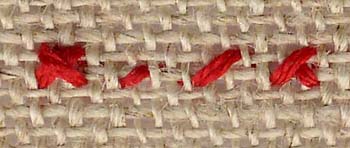 Stitched On Linen over two threads.
Left to Right: a full cross stitch, a quarter stitch, a half stitch, and a 3/4 stitch.
1/4, 1/2, and 3/4 stitches are all shown the same way on a chart or pattern (with the smaller than normal symbol). You get to decide which stitch to use. Here are my suggestions:
If the area is outlined in backstitch, you probably just need a 1/4 stitch. For the design above, I would just do 1/4 stitches.
If the area is not outlined in backstitch, use a 3/4 stitch for the detail color and a 1/4 stitch for the background color.
If the stitch is next to an unstitched area, use a 3/4 stitch.
Visit our cross stitch blog for new products and news. View All