Quick Links
Online Catalog
From Aida To Zweigart--Yarn Tree is the source for cross stitch. 1,000's of products and patterns from your favorite designers.
Search
Search Online Catalog.
Where To Buy
Support your local needlework store! If your favorite store is not on the list, ask if they will special order for you.
Contact Us
Your best source for needlework for over 35 years.
Niche Marketing
Return to Marketing and Promotion page
I once saw a sign in a restaurant,
"Price, Quality, Service. Pick any 2."
There is a lot of truth to this. It is simply not possible to always have the lowest price, the best quality product, and the best customer service.
Niche marketing is simply finding an under served section of the market, and positioning your business to serve that section of the market.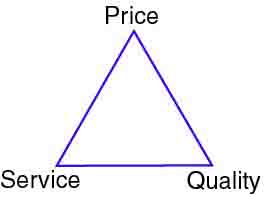 For retail stores, the 3 main variables are Product Price, Product Quality, and Customer Service. Looking at the triangle diagram to the right, a store can position itself anywhere inside the triangle. Moving closer to any corner means moving away from the other 2 corners.
For example, a store can position itself as having the lowest prices, but to stay in business it has to sacrifice customer service and product quality.
RULE 1: Do not compete head to head, especially against a bigger business.
Niche marketing is not about trying to be everything to everybody. Instead, the goal is to satisfy the wants and needs of a specific group of customers better than your competition. You never want to compete head to head, especially with a larger business.
Start by listing your competitors. They may be discount stores, the internet, etc. Next, mark where each competitor is on the triangle. As a niche marketer, you should position your store in a area of the triangle that is not being served.
RULE 2: Compete against your competitor's weaknesses.
Whenever possible, compete against your competitors weaknesses, not their strengths.
Suppose one of your main competitors is the local DiscountMart. Their strengths and weaknesses are pretty straightforward. Strengths: low price, a lot of product categories, large ad budget. Weaknesses: poor customer service, no lessons, limited selection of needlework, image is associated with low quality.
Using niche marketing, instead of competing against the chain store's strong points (price, size), you should compete against their weaknesses (quality, selection, and service).
RULE 3: Do not position your store directly between 2 other competitors.
Suppose you have 2 chain stores in your area and both are competing on price; but one store has slightly better customer service, and the other store slightly better selection. You would not want to position your store directly between the two stores because as they compete against each other, you will be caught in the cross fire.
RULE 4: Make sure the niche you choose is large enough to support your business.
Sometimes the market you want to sell to is just too small to support the business you want to have. If this is the case you have two options: 1) find a larger market, or 2) reduce the size of your business (that is, reduce your monthly expenses to fit your market). A small, profitable business is much better to own than a large, unprofitable business.
Visit our cross stitch blog for new products and news. View All